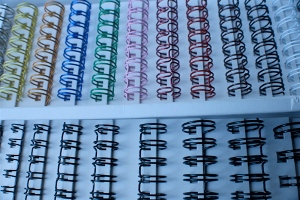 Wire "O" books:
Wire "O" binding is very popular on calendars. It is also great for school or general "how-to" books and is also very helpful in making up directories, or books that need tabs. They are good in any situation where it is helpful for the book to lay out completely flat, such as in cookbooks. Wire "O" comes in man diameters and weights and colors. It can be made to be completely concealed, half concealed or not concealed at all. The half or full concealed books have the advantage of having a spine to put the name of the book on. That is an advantage in bookstores. Make sure your printer is familiar with wire O" and has the required dies for the size of wire you require. Get a dummy book first to make sure it opens easily. There are several types of cover that I have used that work the best for wire "O". Try and find a sample of a wire "O" book that you like and take the specs from that sample.
Recommendations: Wire "O" is a luxury for wall calendars but a must for easel or desk calendars. Use the wire "O" to full advantage and make sure the cover will not slip off the wire in the back of the book.
Accordion books:
I made the greatest accordion book ever, it was for the Maui Cultural Museum, and it is 25 feet long. It fits into an elegant box with a bone toggle clasp and I was told the Dalai Lama was presented with a copy in the last year or so. Accordion books are very rare. There is no spine and the paper is continuous, glued together by hand. If the occasion warrants it, go for this beauty, it needs a box to contain it, but it will be a stunner!
Recommendations: Make sure the format is the perfect presentation for your book. Everything else will fall into place if it is.