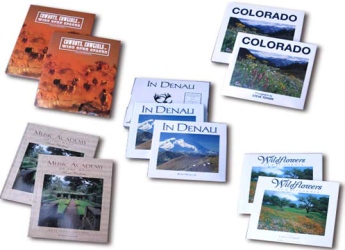 Mixed runs described:
A mixed run usually consists of a core number of soft covers with some additional hard cover copies run-on. But it can be the other way around, hard covers as the core run with some limited edition run-ons, or any number of combinations.
I always point out the flexibility of mixed runs to my clients because it allows you to cater to more than one audience in a single, more economical printing. Some photographers or artists that have their own galleries or who sell through art shows or exhibitions prefer to have only hard cover books available for their clients, because these sell for more and are thus more profitable for the artist. Hard covers are considered luxurious, and galleries often use hard cover books to close an art purchase. But for bookstores and other retail or gift outlets the less expensive soft cover is a great way to present a high quality book at a reasonable or affordable price.
To get advance sales, or to create gift books for special events you can create a special limited edition within your book run. Those books could be considered collectible, and they could be signed and numbered. Sometimes art or original photographs or prints are combined with the Limited Edition books to form a more attractive collectable edition. The book may be sold in a presentation or clamshell case which may also include a photo or print or DVD. But the main reason to consider printing a mixed run would be if you saw an advantage in placing different styles of books, hard covers, soft cover or Limited Editions, in different venues, or if you had more than one types of target buyer in mind, for example, donors to a museum might receive a hard cover edition, but the soft cover would be offered in the museum store. Mixed runs iare the most economical way to offer various price points to the consumer. And sometimes combining a hard cover with a larger soft cover run might be the only way to print a few hundred hard cover books at a reasonable price. This option is widely available in Asia, but not in the US in general.
Recommendations: Try pricing your book as a soft cover with flaps and also as a hard cover with a matching slipcase. Turn the hard cover into a limited edition, and include a tipped-in page for signing and numbering the limited edition or turn the first page of your book into a special limited edition page for that edition and a half title page for the regular edition. Both books should be Smythe sewn. You will need two ISBN numbers but you can print both of them on the copyright page and put each bar code where appropriate, on the back of the soft cover or on the jacket of the hard cover. For the Limited Edition copies you may not want a bar code.