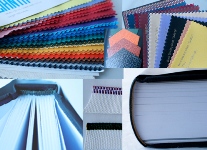 Hard Cover books described:
Hard cover books are the most durable style of book because of the binders board used for the covers, protective dust jackets and sewn binding style.
A hard cover book consists of the covers, the material covering those covers, a dust jacket (optional), the endsheets and the text block within those endsheets.
Hard cover binding is referred to as Smythe sewing or section sewn. In a nutshell, sheet fed presses print both sides of large sheets which consist of 12 or 16 pages of text, (6 or 8 pages per side.) The printed sheets are called signatures, and
each signature is folded and each folded signature is sewn down the middle of the signature with white binding thread. The signatures are collated and stacked on top of each other and glue is applied at the folds, which will become the spine of the book. Gauze is applied on top of the glue which holds the signatures together compactly.
How a hard cover book is made:
A book is laid out digitally page by page using a special layout program. This procedure is called "Imposing the pages," which produce large sheets that contain 6 or 8 pages per side. These days, this layout is the basis for "etching" the 4 color plates that are used to produce full color printing. For each side of a large press sheet four large metal plates are produced, one for each of the 4 colors used for full color printing: C - Cyan, M - Magenta, Y - Yellow, K - Black. These plates are fitted onto four cylinders which are inked from trays of ink at the top of the cylinder. These are now frequently fitted automatically, but only a few years ago, and still at some printing plants, these sheets were fitted by hand. The large sheets of paper, called forms, are fed through rollers which are opposite the plates. The rollers press against the plates and transfer the ink which is sitting in the etched pits in the plates, to the paper. Four colors of ink are laid on top of each other as the sheets pass through the press which has 4 sets of rollers and plates .
At the other end of the press the sheets fall into a stack, and a pressman is there watching to make sure the sheets are printing correctly. If the color is not looking correct, they slow down the presses and make the correct color adjustments. Some dust may have gotten onto the press sheets, and the pressmen find it, remove it, and move on. Then once both sides of the forms are printed and the ink is dry, the sheets are folded so that the pages become little booklets 12 or 16 pages long, called "signatures".
When you look at a press sheet some of the pages will be upside down, some will be right side up, and most of them do not seem to be in the expected order. That's because they still need to be folded. To get an idea of what this looks like, take a piece of xerox paper and fold it in half starting with it in a horizontal format, then fold the longest side again, and then again. You now have 16 pages. Put the folded long side on the left. Cut the folds off the other edges. Now draw a little triangle with the pointy end up on the lower outer edge of each page, and inside the triangle put the page number in sequence starting at one, going through 16. When you unfold the "booklet" you will find some interesting things out about book layout. Notice which pages are right side up and upside down. You will notice some double page spreads are together, most are not. As you study this sheet you will understand a lot more about book production. Every designer should do this exercise!
Gathering information for submitting an estimate request:
An estimate request is like a requisition for purchasing building materials to build a house or garage. Each part of the book has its own specifications which affect the overall price. For a hard cover book you need to specify the following things:
Title: This names the project.
Size: This is the trim size of the paper in the text block, not the cover size. State orientation.(VErtical or Horizontal)
Extent: This names the different parts: consists of number of pages, number of endsheets ( 8) cover or case, dust jacket.
Example so far:
Title: How to Make Owl Nesting Boxes (hard cover book)
Size: 8" x 10" Vertical format
Extent: 120pp text + 8pp ends + cover + jacket
Next section is about the actual materials used;
Text:
Weight of paper, type of paper. We use gsm in Asia, grams per square meter
In the US we use pounds per square yard.
Weight of paper, (range is from 80# (128 gsm) to 100# (157 gsm) glossy coated or matt coated art paper. For covers where the cover is printed, we need to state the type of protective covering for the outside, number of inks used in printing the cover, any additional treatments, and for a soft cover book with flaps,the width of flap.
Recommendations:
Use 157 gsm glossy C2S art (100#)for the jacket, for several reasons. The dust jacket should be a heavy paper for durability. But for a nice-looking jacket, it should hug the book, and not billow when put down on a table. The glossy paper should be coated both sides, as this will hug the book better than a coated one side paper or a matt coated paper. For an arty look use matt film lamination over the printing, for durability and less wear showing, use glossy film lamination.
Cover:
Thickness of the binders board in mm. Also need to address whether or not you want a square-backed book, a round backed book, or a three piece binding, the material that will be used for the covering of the book, and whether or not there will be foil stamping, blind debossing , or tipped-on images on the front of the book. There is usually one line of type for the title of the book on the spine. This is called "One hit foil/spine"
Recommendations:
Use 2.5mm board for children's books or trade books. Use 3mm board for coffee table or large format books. Use round binding for books with lots of pages, or for large format books that will be opened a lot. Use square backed binding for coffee-table books or most other books. Foil stamping comes in many colors, the standard gold or silver, but also many other colors, and finishes can be matt or glossy. Each stamp is called a "hit" of foil. These stamps are expensive, so for a more economical book, just put foil stamping on the spine like the Italians do, classy and less expensive. For the cheapest covering use Arlin, or Wibilin, both colored binding paper, usually with a linen look. It stamps beautifully. Cloth is expensive, but classic, and extremely durable

Ends:
Endsheets are made of uncoated paper. They are used to secure the book block to the cover. There are 4 pages of endsheets in the front of a hard cover book, and 4 in the back. The first page is glued to the cover, and that is the main reason the endsheet is an uncoated paper, because the glue will easily soak into the paper and the binder's board and make a good solid connection to the cover. For most books 140 gsm uncoated paper called "woodfree" or "W/F" is commonly used, but you can go up to 180 gm or 200 gsm for fancy coffee-table type books. Colored endsheets are expensive but wonderful. You can also print any number of colors on the endsheets and you can print on one side or both sides. If you print on one side then the endsheet opposite the cover and the one opposite that will be printed. If you print both sides then all three visible endsheets are printed. You can print 4 colors on one side and a special PMS color on the other side (4/1 printing). Endsheets can come in wonderful embossed patterns. The Koreans make the best embossed endsheets. When preparing art for endsheets prepare a file of 8 pages, leaving the first and last page blank. Prepare the other 6 pages as though they were a small booklet, importing art or making patterns in InDesign or Quark. Name the endsheet files as endsheets.
Recommendations: For elegance and economy keep the endsheets white. Use 140 gsm W/F unless you are willing to pay quite a bit more for a heavier weight of endsheet.
Text paper:
This is usually somewhere between 128 gsm and 157 gsm for books with color inside. Indicate the number of pages starting with the first page and on until the end. If the front matter is numbered differently, add that to the number of pages in the main section. Try to end up with a number divisible by 16. If your book is square then that number should be divisible by 12. If you can't reach 16 then try for 8. So for full use of your paper and for economy a 96 page book consisting of 6 full signatures (16 x 6 = 96pp) would be a very good even number for the printer. If you have slightly more than 96 pages, the next best number would be 96 +_ 8 (half signature) or 104pp. Each time the pages have to be folded is another cost. So you are charged for another full signature of folding, but you are only folding half a signature. The book starts on a right hand page and ends on a left hand page.
Recommendations: For coffee-table books from 96-128p text on 150-157 gsm matt coated or glossy coated paper.
Additional things to think about are whether or not you want the books to be individually shrinkwrapped, how many you need in a shipping carton (sometimes publishers give discounts for a full carton of books). You may decide on a mixed run which will be handled separately. Other extras to consider are presentation cases, slipcases, ribbon markers and tipped-on images (onto the front cover of the book), or tipped in pages inside the book. Those are covered in Extras to consider.