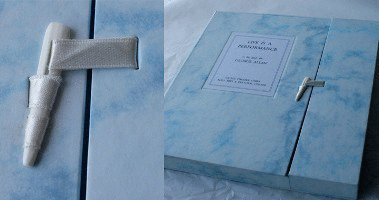 Like anything else, you can order additional or extras. Sometimes extras should be routine, like extra dust jackets for your hard cover run. Those are essential if you have agreements with bookstores or retail stores which allow them to ship unsold books back to you. In that case you must have additional jackets. You should always order additional slipcases or additional boxes for Limited Editions as they may look great when they leave the factory, but when they dry there may be some problems.
Other extras would include special tipped on images on the cover of the book, or special presentation boxes, die cut covers, adding vellum tip-ins at the front or back of the book, and putting stickers or foil stamp stickers on the cover or jacket of a book, or doing a special cover for one specific pre-sold client, perhaps with his own logo on the jacket.
Recommendations: Always order extra dust jackets. You may be able to use extra soft cover covers as well for marketing. .
My most effective add-on for a touch of class is a ribbon marker. It can be coordinated with the head/tail band colors and it is so unexpected!