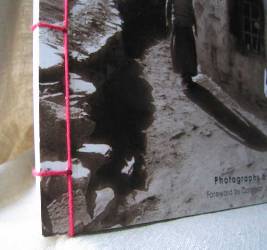 All about binding:
Books can be Smythe sewn, perfect bound, notch bound, wire "O" bound (concealed, semi-concealed and regular) spiral bound or can have a Chinese style binding. The can also be stapled (saddle-stitched) or side stitched. They can be without a binding (such as accordion books) If you are talking about a hard cover book you can have a three quarter binding as well, where the front and back covering material is different from the spine material. Library books often have cloth on the spine, and a printed cover on the font and back. The cloth will help the book last longer with heavy usage. Hard cover books can have a square back or a round back. They can also have reinforced first and last signatures. The only thing that holds a hard cover book to the case is the endsheets. There is gauze applied to the back of the book block to make sure that the back stays together but unless the book had reinforced first and last signatures, the gauze is not extended to the endsheet area. The only places where the book block is attached to the case is at the edge at the front and the back where the endsheet is glued to the first and last page of the book. Use good solid endsheet paper for large format books. Endsheeet paper is uncoated to absorb the glue applied to the inside of the case.
Foil stamping:
You can foil stamp a hard cover front, back or spine. Foil stamping can also be used on soft cover books. You can blind emboss a hard cover, and this is most often used when you would like the title of the book embossed into the cloth cover or your own signature embossed on the cover without using foil. Embossing stamps are usually deeper than the stamps used for foil, and are usually more expensive. I recommend gold or silver foil stamping on the spine only unless you have a great logo or title you want to display on the book without a jacket.
Recommendations:
If you have a large format book, or a book with lots of pages, try asking for a round backed book and make sure that you request that the first and last signatures are reinforced. If you want the tidiest possible job with the reinforcing (instead of messy irregular gauze) ask for reinforcing tape, not gauze. The tape, when applied properly, will make a tidy line instead of a wavy irregular one from the gauze. Make sure you order matching head/tail bands. These little strips of cloth tape cover the ends of the paper at the head and foot of the spine. Match them or contrast them with your book cover or endsheets.